One would not think that selling homemade cookies would be a source of controversy but apparently enterprising 10-year-olds are just too much for some to handle in Cedar Falls, Iowa. Savannah Watters is a 10-year-old little girl with dreams of one day opening up a bakery and was testing out her skills by baking cookies with her mother and selling them, along with flavored water at the end of her street.
Savannah said of her budding cookie business – "It was going really well." It earned her up to $250.00 on one day.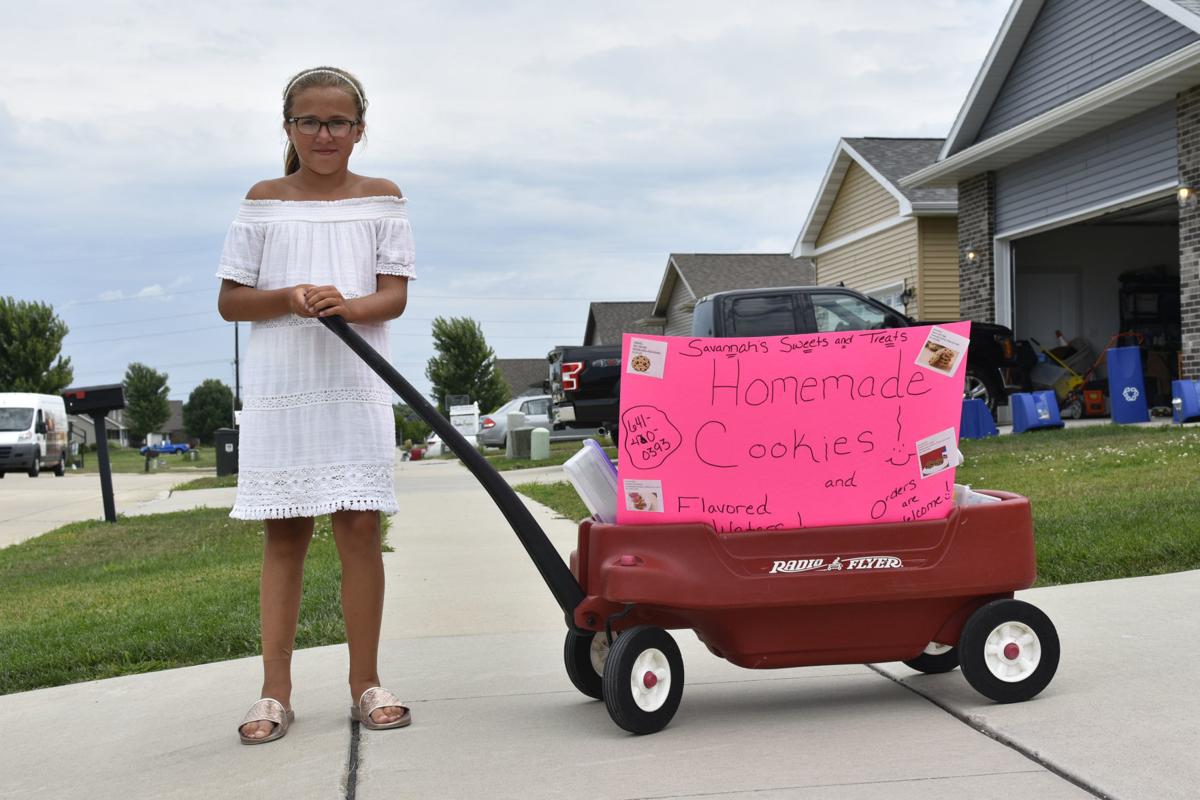 Savannah had been peddling sweets and flavored waters for approximately five weeks, working hard each day for several hours. Savannah states – "Every day for a couple hours I would bring my wagon and go down to the end of the street and sell stuff."
Kara Watters, Savannah's mother, is a former baker herself and Savannah enlisted her help to bake the cookies. Savannah was doing so well she had started making order forms and even business cards to give out to her customers.
Then neighbors began calling the local police with claims that Savannah was risking the safety of the rest of the children in the neighborhood with the amount of traffic her cookies were bringing in. One neighbor claimed she was simply "concerned" over the risk to the safety of the children in their neighborhood due to the amount of traffic her cookies brought to the area.
The Cedar Falls Police Department state they received a total of three different calls within a five day period. Savannah says business was going very well for a period of five weeks, that is until her neighbors started calling the police. Neither she nor her mother had any idea there was even an issue. Rather than speak to her mother about the situation, the neighbors simply called police to address it. The police were called three times, on July 27, 30 and 31.
"Over a period of five days, received three phone calls," Cedar Falls Police Chief Jeff Olson said. Another caller requested police officers do a welfare check on Savannah wanting to make sure the 10-year-old cookie entrepreneur was adequately supervised.
"On the third call, she was set up close enough to the 45 miles per hour speed zone street," Olson said. "That kind of concern, the officer asked her to maybe go further back from the curb or maybe go into the driveway of her home."
https://www.youtube.com/watch?v=SAK5h8iM1Xc
The Courier reports –
The first complaint noted Savannah was selling without an adult present, said Cedar Falls Public Safety Director Jeff Olson. The other reports concerned traffic.
The speed limit on Union Road is 45 mph, and the speed limit on Paddington Drive is 25 mph.
"We had her move a few feet back from the curve," Olson said.
Neighbor Melissa Winberg said she called police because the traffic coming in and out of the Paddington Drive was dangerous.
"We've had too many people coming in that we don't know," Winberg said. "My daughter was in our driveway riding her bike, and a car pulled in and almost hit her."
Winberg parked her car along her driveway to prevent people from pulling in to turn around.
"We had three semis, a dump truck and four cars parked along the road," Winberg said. "To be honest, if her mom wants to open a cookie shop, there are other ways of doing it than making her 10-year-old daughter sit on the corner for seven hours a day."
After the third call, Savannah decided to suspend her fledgling sales career, at least at her corner location. However, that simple change in location to the less visible spot a couple of blocks away from the intersection in her driveway negatively impacted her business significantly, and her feelings were hurt by the neighbors' refusal to simply speak to her mother about the situation.
Savannah states – "I wish that we could have known first, 'cause we didn't know anything. And it's just hard to believe that they didn't come talk to my mom first."
Savannah's mother Kara, who baked the cookies that her daughter sells states she is simply overwhelmed by the whole controversy, along with all the attention it has attracted her and her daughter.
Watters stated – 'No one had talked to me about anything, they just took it upon themselves and called 911. The police show up to talk to my daughter. I don't want attention and I don't. I am not a bad person and I am a good mom, and I would never risk, you know, and I didn't know anything that anyone was bothered, and so I just wish they were to come to me instead of making it all of us you know all of this."
Savannah added – "I enjoyed it a lot, so then I wanted to have a cookie shop with my mom 'cause it's always been my dream to do that. I just wish that I could've just kept staying there."
Nice way to crush the dreams of an enterprising and hardworking little girl's attempts to creatively earn money. Savannah planned to purchase new clothing for school with the money she earned from selling her homemade cookies and water. Now a bunch of busybodies can go back to complaining about how kids these days don't understand the value of hard work. One need not wonder hard to figure out why.